Meet the Opening Keynote Speaker
Jesse M. Bernal, Ph.D. is the second Vice President for Inclusion and Equity at Grand Valley State University. Dr. Bernal joined Grand Valley in 2015 and oversees the university's coordinated efforts to advance diversity and campus climate. In addition, Dr. Bernal is an adjunct faculty member in the Adult and Higher Education Program in the College of Education at Grand Valley. Dr. Bernal serves on several local, state, and national organizations' boards and committees, including Chair of the Michigan Association of State Universities Chief Diversity Office Committee, the Grand Rapids Public Museum Board of Trustees, the Arbor Circle Board of Directors, the Grandville Avenue Arts and Humanities Board of Directors, Vice Chair of the National Chief Diversity Officers in Higher Education Upper Mid-West Chapter, among others.
Prior to arriving at Grand Valley, Dr. Bernal served as a senior diversity officer at Santa Clara University and at the University of California Office of the President, as well as other academic and student affairs roles in the UC system. He received his Ph.D. from UC Santa Barbara, and continues his research on education policy and law, organizational climate, and inclusive hiring.
Be sure to register for this year's Drive-In to hear Dr. Jesse Bernal speak on the topic of "Higher Education's Responsibility: Advancing the Educational Pipeline through Equity-Minded Leadership"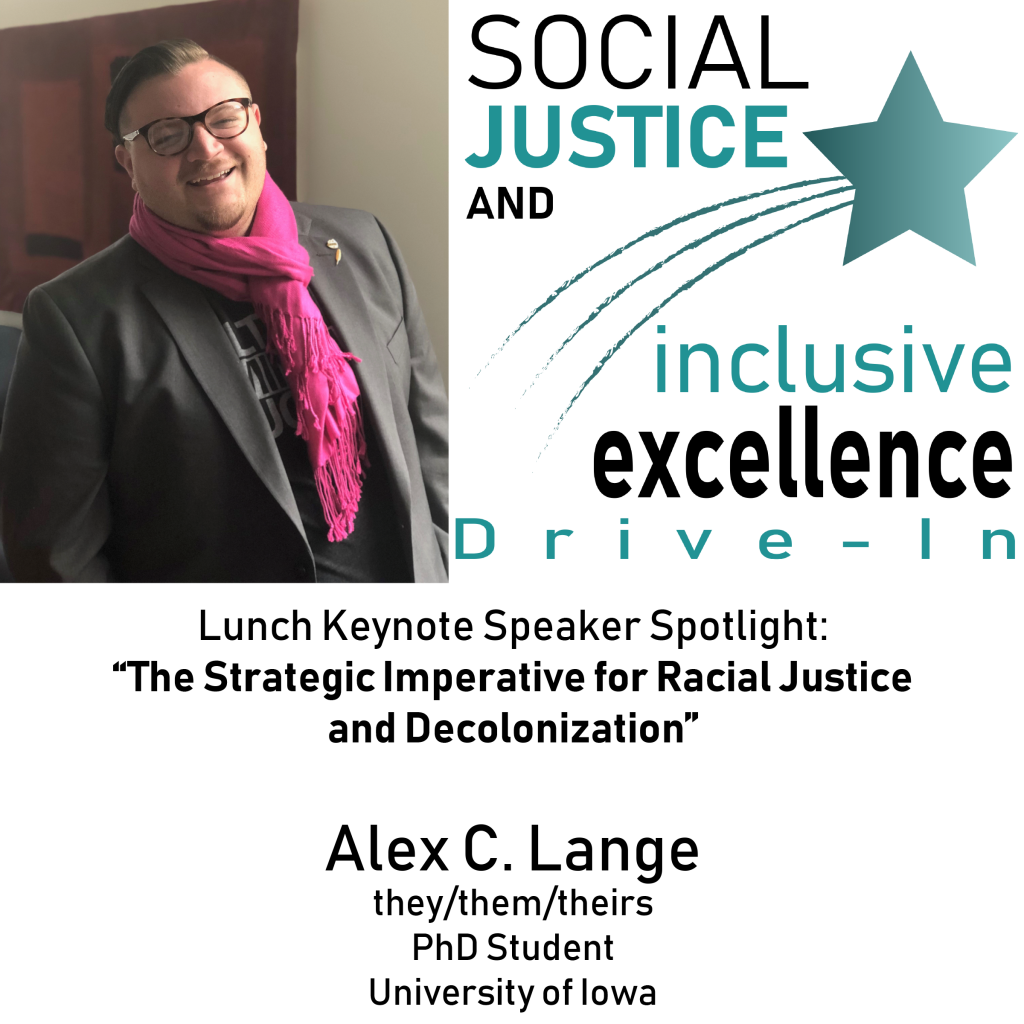 Alex C. Lange (they/them/their) has an impatient, enduring hope for a just, caring, and thriving world. They are currently a Ph.D. student in the Higher Education and Student Affairs program at the University of Iowa. Alex's research examines both those on the margins in higher education along lines of sexuality, race, and gender as well as the forces that pushes those people to the margins, including whiteness/white supremacy, heterosexism, and trans-antagonism. They are a co-author on the forthcoming book Student Activism on Campus: Identity and Power (Routledge) and were part of the collective that authored ACPA's A Bold Vision Forward: A Framework for the Strategic Imperative for Racial Justice and Decolonization. Their collaborative research on queer college men and student activism has been published in outlets such as the Journal of College Student Development and The Review of Higher Education.
Be sure to register for this year's Drive-In to hear Alex speak on the topic of "The Strategic Imperative for Racial Justice and Decolonization"
Tonya C. Bailey (she/her/hers) is an accomplished leader offering over 20 years of experience in the Higher Education field. She is currently a Ph.D. candidate in the Higher Educational Leadership program at Central Michigan University and will soon defend their dissertation titled "Institutional climate and collegiate experiences of First Generation African American students' sense of belonging and resiliency at Predominately White Institutions (PWIs)." Throughout their career they have worked at several of Michigan's higher educational institutions and brings focus to the work being done within the state. Tonya brings a passion to overseeing diversity and inclusion strategies, student affairs administration and academic programming in higher education settings. Tonya Bailey endeavors to be a "lid-lifter" to individuals from diverse backgrounds to help them excel in their gifts, dreams, and aspirations beyond their potential. Ultimately, Tonya hopes to leave a mark, not a stain while enhancing the lives of others.
Be sure to register for this year's Drive-In to hear Tonya speak on the topic "From Exclusion to Inclusive Excellence: A Call to Action!"