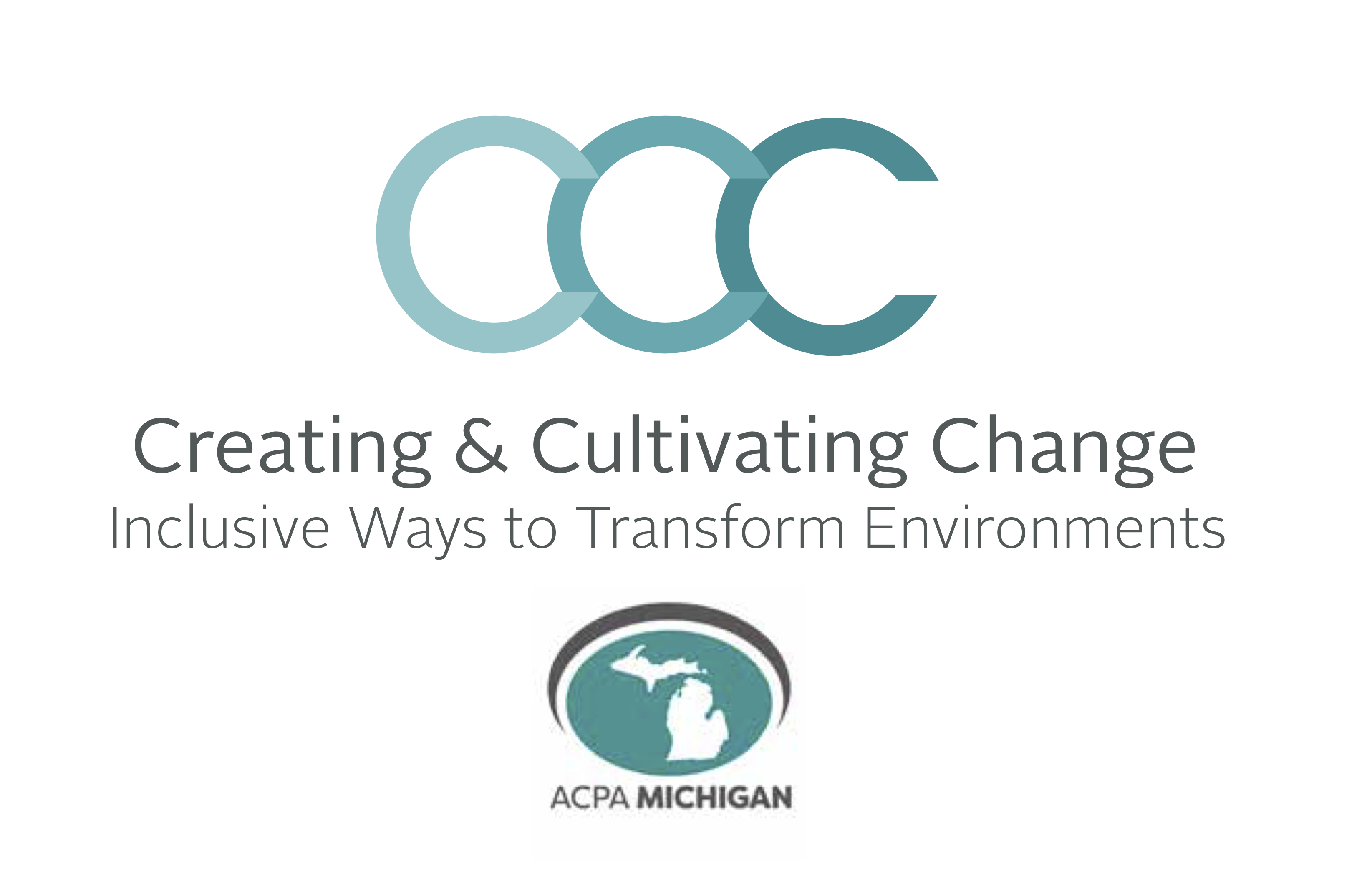 You are invited...
to submit program proposals for the ACPA-MI 2018 Annual Conference, #ACPA18: "Creating and Cultivating Change: Inclusive Ways to Transform Environment" to be held at University of Michigan – Ann Arbor October 14-15, 2018. Student affairs administrators, advisors, graduate students, new professionals, researchers, faculty, and other academic staff are strongly encouraged to submit program proposals.
The allotted time-frame for presentations will be 45 minutes. The submission deadline for conference program proposals is August 31, 2018.
Notifications regarding program proposal acceptance, as well as scheduling information, will be communicated via e-mail by early September. All presenters must register for the ACPA-MI Annual Conference by September 20.
Potential topic ideas could include but are not limited to:
Creating brave spaces on campus
Managing hot moments in the classroom
Strategic alliances for building and strengthening equitable access
Educating for personal and social responsibility
Creating positive campus climates
Empowering students to be activists and agents of change
Proposals will be evaluated on the basis of:
Relevance to the conference theme and/or the student affairs profession
Clear reflection of current issues and innovative responses
Advancement of the knowledge base in student affairs
Adaptability of ideas to a variety of settings and institutions
Clarity of presentation purpose, objectives, and goals for specified audience
Strong conceptual or theoretical foundation
Creativity and uniqueness
Demonstration of sound writing practices
Provision for active involvement in the learning process
Information presented is achievable within one hour timeframe
Tips for effective program presentations:
Strong abstract, program purpose, and outline.  This assures that attendees understand the type of program they are attending and the expected outcomes.
Participant involvement and interaction.  The use of discussion or activities ensures that participants will be involved in the session.
Use of handouts and visual aids. Visual aids help make your program more interesting. Participants often appreciate getting handouts on which they can take notes; this allows them to pay more attention to the information being presented.